Villisca Historical Society & The Villisca Theater Board
will sponsor a special showing of the award-winning film

Country School: One Room - One Nation

by Kelly & Tammy Rundle

Both showings include a Q & A with the filmmakers and local participants
July 2011
Villisca, Iowa—Award-winning filmmakers Tammy and Kelly Rundle will appear with their new documentary film Country School: One Room – One Nation at the Rialto Theater during Villisca's Heritage Days July 1-2, 2011. The film features one-room schools in Montgomery and Page Counties, as well as interviews with several former students and scholars. Villisca and Stanton residents played a part in helping tell the important story of the life, death and rebirth of the one-room school.
From immigration issues in early schools to the controversial demise of their widespread use in the 1950s and 1960s, Country School: One Room – One Nation combines visually stunning images of a myriad of restored and decaying buildings—including one designed by Frank Lloyd Wright—with surprising, humorous, and heartwarming stories from former teachers and students. More than just nostalgia, School also delves into the dark side of the one-room school experience and dispels the myths behind the revered institution that helped bind a young nation together. Filming took place in Iowa, Kansas, Nebraska, Illinois and Wisconsin.
Quad City Times film critic Linda Cook gave the film 4-out-of-4 stars and wrote: "Another documentary gem...vivid and fascinating."
Film reviewer Mike Schulz of the River Cities Reader wrote, "Country School emerges as a definitive portrait of education in a one-room environment, a work that's every bit as informative, engaging and impassioned as those telling its tales."
Country School: One-Room - One Nation presents the hopes, dreams, and the reality of those who built them, those who taught in them, those who attended them, and those who work to keep their history alive," said Susan Fineman of the Country School Association of America's Board of Directors.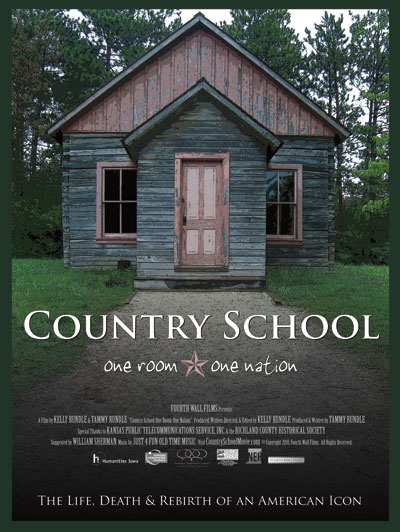 "Country School is lyrical, lovely and informative…the Rundles get an A all the way, plus lots of gold stars," wrote Milwaukee, Wisconsin artist and Villisca Review columnist Judith Moriarty.
Current and former residents of Villisca, Stanton, Clarinda and Red Oak offered help on the project. Historian Elaine Artlip of Villisca assisted the Rundles with Montgomery County research, and several Villisca and Stanton residents submitted historical photographs for use in the film. Stanton's Ross Rossander of the Swedish Heritage and Cultural Center and fomer one-room school student John Palmquist were interviewed for Country School, as was Dr. Lisa Ossian, formerly of Stanton, now teaching at Des Moines Area Community College in Ankeny, Iowa. I n Clarinda, Nodaway Valley Museum's Janet Price was interviewed at the Goldenrod School, the birthplace of 4-H. Clarinda resident Jenny Hansen provided her horse "Foxy" and a buggy for a film re-enactment that included "schoolmarm" MeMe Palmquist in the driver's seat. The Cramer School in Stanton, the Goldenrod School in Clarinda and the Pittsburg Schoolhouse in Red Oak are featured in the film.
Country School: One Room – One Nation premiered at the State Historical Building in Des Moines and it went on to win awards from the Cedar Rapids Independent Film Festival, Silos & Smokestacks National Heritage Area, and the Country School Association of America.

The filmmakers previously produced the award-winning documentaries Lost Nation: The Ioway and Villisca: Living with a Mystery. They are currently in production on the documentaries Movie Star: The Secret Lives of Jean Seberg and the sequels Lost Nation: The Ioway 2 & 3.
Country School: One Room – One Nation will screen at the Rialto Theatre, 422 South 3rd Avenue, Villisca, Iowa on Friday, July 1, 2011 with an opening reception and refreshments at 6pm followed by the film at 7pm. On Saturday, July 2, 2011 the film will screen at 2pm. Q & A with the Rundles and other guests will take place after both screenings. Admission is $5 per person. This special program is sponsored by the Villisca Theater Board and the Villisca Historical Society, Inc.
Country School: One Room – One Nation was funded in part by Humanities Iowa, the Kansas Humanities Council, the Wisconsin Humanities Council, the National Endowment for the Humanities, and Silos and Smokestacks National Heritage Area. Visit CountrySchoolMovie.com for more information.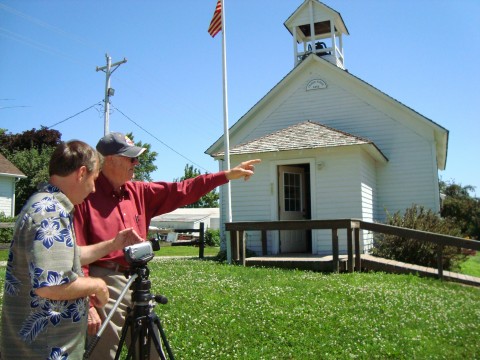 Photo: Swedish Heritage and Cultural Center's Ross Rossander and filmmaker Kelly Rundle at the Cramer School in Stanton, Iowa.

Contact: Kelly Rundle, Fourth Wall Films, P.O. Box 702, Moline, IL 61265, FourthWallFilms at aol.com
For more information visit:
###